HOW TO GET THERE
It belongs to Kagoshima prefecture, being one of the islands closest to the main Kyushu island. It is located 135 km south of the capital. Its most important town is Miyanoura, in the northeast of the island. It is very close to Tanegashima Island, home of the Japanese Space Center, so if our stay coincides with a launch, it can be seen easily.
FERRY
Almost all tourists arrive from Kagoshima, disembarking in Miyanoura, there are two types:
Fast:

In high season there is one every 1-3 hours, in total 6 a day. There are two others that do not reach the main port of Miyanoura, but Anbo, to the east.
It takes 2 hours. Some stop at Ibusuki and / or Tanegashima, taking 3 hours.
8,500 / 15,000 ¥ one way / round trip (to use the return ticket within 7 days after departure).
If taken directly at Ibusuki, the price is 7,000 / 12,600 ¥ one way / round trip.

Slow. Called Yakushima 2, the one I took, because the first ones were cancelled for some reason I do not remember.

One per day at 8:30 a.m. Departs back from Yakushima at 1:30 p.m.
4 hours.
€ 4,900 / € 8,900 one way / round trip.

Overnigth, called Hibiscus:

One per day at 6 pm. Stop at Tanegashima during the night and you are not allowed to leave the boat, arriving at Yakushima at 7 am. It is convenient to bring food since there are only vending machines. There are no beds, you sleep on carpeted tatami and it is recommended to take a sleeping bag. Returns at 08:20, arriving in Kagoshima at 3:40.
It leaves from Taniyama Port, 20 km south of Kagoshima center. To get there there is a bus from the center at 15:45 (Nanatsujima direction) that arrives at Taniyama Port at 5 pm (380 ¥). You can also go by train to Sakanuoe and walk or take a taxi for the remaining 3 km.
3,600 ¥ one way.
YAKUSHIMA AIRPORT
Itami Airport receives flights from Japan Air Commuter (Japan Airlines subsidiary) direct to and from:
Kagoshima: 3 or 4 flights per day depending on the season, 35 minutes, from ¥ 10,000 per trip.
Fukuoka: 1 a day, 60 minutes, from ¥ 16,000 one way.
Osaka: 1 flight a day, 90 minutes, from ¥ 30,000 one way.
GETTING AROUND
In Yakushima there is NO TRAIN. The old railroad that was used to take out trunks from the forest towards Anbo Port has been reconverted, and now it is part of the Arakawa Trail, the path that leads to the famous Jomonsugi.
There is a road that surrounds the island at the height of the coast, where all the urban centers are, and two that go into the forest, one north from Miyanoura, and another east from Anbo.
CAR
There are at least 10 car rental offices in Miyanoura, most of them near the port or following the main road, and at the airport. The prices of the smallest are around ¥ 6,000 per day. It is the only way to go around the island, because in the west the road is too narrow for buses. The international driving license is essential.
There are also 3 taxi companies.
BUS
There are two companies, Tanegashima-Yakushima Kotsu and Matsubanda Kotsu. There is one bus every hour except on the west coast, where as we have said the bus can't get through.
Those that go to the beginnings of the paths where the millenarian cedars are found are more infrequent:
Four a day from Miyanoura to Shiratani Unsuikyo: 08:20, 10:20, 14:00, and 15:30. They return at 09:00, 11:40, 14:40 and 16:10.
Two a day from Anbo to Yakusugi Land and Kigensugi: 09:16 and 13:26. They return at 10:40 and 14:50.
From March to November access to the Arakawa trail is closed to cars, so there are shuttles (870 ¥ one way) from the Yakusugi Museum (Shizenkan).
Prices:
Tanegashima-Yakushima Kotsu has passes of 1, 2-3 or 4 days, they cost 2,000, 3,000 and 4,000 ¥ respectively (the 2 or 3 days pass costs the same). The passes are not valid in the Matsubanda Kotsu nor in the shuttles. They can be purchased at ports, the airport and at the Miyanoura Tourist Office and are usually profitable.
If we do not buy a pass, buses cost more the farther we go. The official prices updated in August 2017 can be found in this link.
Schedule:
Tanegashima-Yakushima bus: schedule in Japanese since September 2017 in this link.
Matsubanda bus: schedule in Japanese since January 2018 in this link.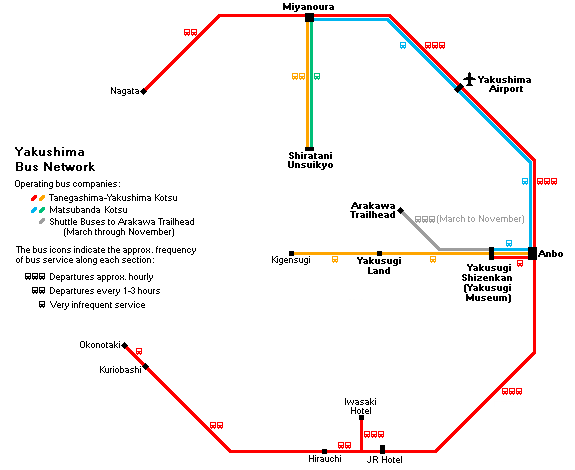 BICYCLE
In Miyanoura there are 5 companies that rent bicycles, starting with the Tourism Office itself. The prices vary according to the shop and the type of bicycle, between 800 ¥ per day for a 5-gear ride, up to 2,500 ¥ per day for a 21-gear mountain bike.
MORE IN YAKUSHIMA:
∇ Destinations / ∇ Asia / ∇ Japan / ∇ Kyushu / ∇ Kagoshima / ∇ Yakushima